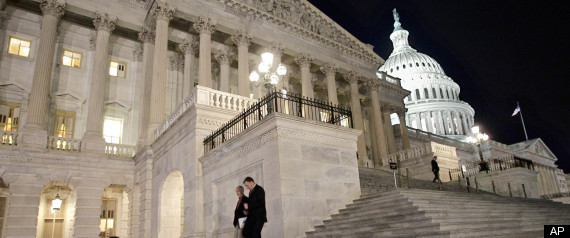 Most recent updates here….
UPDATE: Monday, 2/28/11: Government shutdown for the federal employee
Government shutdown: Facts and figures – Despite assurances from the Obama administration and congressional leaders that they don't want a government shutdown, each day closer to March 4 without a final agreement makes the suspension of government services more likely.
Ezra Klein — One step closer to shutdown? – This isn't just about the spending bill. The stakes are higher even than that. At this point, no one side really knows how the power dynamic between the House and the Senate will shake out. House Republicans feel their preferences should take priority because they won the last election. Sharp cuts to non-defense discretionary spending are nothing more than their due. Senate Democrats counter that they still control not just the Senate, but also the White House — the House Republicans are a minority partner in this play, and don't get to decide what the government does or doesn't do merely because they control one of the three major legislative checkpoints. An uncompromising force is meeting an unimpressed object.
Sam Stein — Government Funding Talks Dissolving, Shutdown Now Floated As Negotiating Tactic – Behind the scenes, aides say, talks have taken on an even more ominous tone. According to sources familiar with the discussions, Republican negotiators have said that the only way they could build support within their own party for reducing the size of the cuts — even in the stopgap measure — would be to let the government actually shut down.
If government shuts down, bye-bye BlackBerry — The law could force agencies to sever access to Web mail and portable Internet devices.
Agencies close-lipped on personnel policy planning for shutdown – The age of telework presents a particular challenge for agencies, which would have to define a new set of rules to prohibit employees from conducting business from their homes, he said.
(Opinion) Revenge of the Pomeranians – Hundreds of thousands of nonessential federal employees will be furloughed, stuck at home without a paycheck and contemplating their nonessentialness. The economy will tank. Nobody is going to be happy.
The battle for Wisconsin goes to Washington – Why Scott Walker's fight with the unions will raise the stakes for Obama's budget showdown with House Republicans.
A slap to the GOP… from Goldman Sachs?! – The Republican spending bill will slow down U.S. economic growth, predicts the investment bank. [...] Let's recap: If Republicans don't get the cuts they want — which will deliver a direct blow to the American economy at a time of high unemployment — they're prepared to shut down the government, which will also hurt the economy. Either way, Americans lose.
Gallup: 60 percent want spending compromise, not federal shutdown
If you see the GOP-Teaparty trying to say a shutdown is the fault of the Democrats or the President, remember that the right-wing media cheered  for a government shutdown last year.
Example: