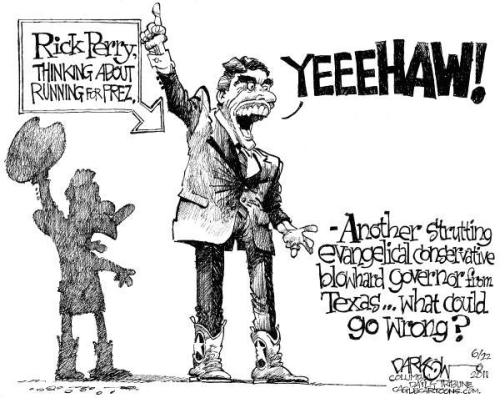 Artist – John Darkow (via: Bob Cesca)
AMERICAN VOTERS SHOULD WONDER: DOES GOD DISLIKE RICK PERRY?
Timothy Egan, in the NYTimes, on "Rick Perry's Unanswered Prayers":
A few months ago, with Texas aflame from more than 8,000 wildfires brought on by extreme drought, a man who hopes to be the next president took pen in hand and went to work:
"Now, therefore, I, Rick Perry, Governor of Texas, under the authority vested in me by the Constitution and Statutes of the State of Texas, do hereby proclaim the three-day period from Friday, April 22, 2011, to Sunday, April 24, 2011, as Days of Prayer for Rain in the State of Texas."
Then the governor prayed, publicly and often. Alas, a rainless spring was followed by a rainless summer. July was the hottest month in recorded Texas history. Day after pitiless day, from Amarillo to Laredo, from Toadsuck to Twitty, folks were greeted by a hot, white bowl overhead, triple-digit temperatures, and a slow death on the land.

In the four months since Perry's request for divine intervention, his state has taken a dramatic turn for the worse. Nearly all of Texas is now in "extreme or exceptional" drought, as classified by federal meteorologists, the worst in Texas history. [...]

That was a warm-up of sorts for his prayer-fest, 30,000 evangelicals in Houston's Reliant Stadium on Saturday. From this gathering came a very specific prayer for economic recovery. On the following Monday, the first day God could do anything about it, Wall Street suffered its worst one-day collapse since the 2008 crisis. The Dow sunk by 635 points.
Via Anne Laurie
Rick Perry doesn't believe any jobs were saved by the government's rescue of the auto industry, which really isn't surprising since Perry is an Establishment Republican. The main objective for Establishment Republicans will always be supporting the rich and powerful with calls to cut taxes and to regulate industry even less — and what middle-class? That playbook never needs a rewrite. From an Obama spokesman:
Governor Perry's economic policies are a carbon copy of the economic policies of Washington Republicans. He pledged to support the cut cap and balance plan that would preserve subsidies for oil and gas companies and tax cuts for the wealthiest while ending Medicare as we know it, eroding Social Security, eliminating hundreds of thousands of jobs and erasing investments in education and research and development.
That's the same approach he took in Texas, where middle class families know his economic record is no miracle – it's a tall tale. Governor Perry allowed special interests to write their own rules, hired corporate lobbyists to oversee corporations, and cut funding for programs that would create opportunity for middle class families. In a Republican field that has already pledged allegiance to the Tea Party and failed to present any plan that will benefit the middle class or create the jobs America needs to win the future, Governor Perry offers more of the same.
Rick Perry: Job creator?? HARDLY:
What Texas shows is that a state offering cheap labor and, less important, weak regulation can attract jobs from other states. I believe that the appropriate response to this insight is "Well, duh." The point is that arguing from this experience that depressing wages and dismantling regulation in America as a whole would create more jobs — which is, whatever Mr. Perry may say, what Perrynomics amounts to in practice — involves a fallacy of composition: every state can't lure jobs away from every other state.
In fact, at a national level lower wages would almost certainly lead to fewer jobs — because they would leave working Americans even less able to cope with the overhang of debt left behind by the housing bubble, an overhang that is at the heart of our economic problem.
So when Mr. Perry presents himself as the candidate who knows how to create jobs, don't believe him. His prescriptions for job creation would work about as well in practice as his prayer-based attempt to end Texas's crippling drought.
— The Texas Unmiracle – NYTimes.com (via shorterexcerpts)
Yawn. Eyeroll. Praying instead of strategic planning combined with protecting / enriching corporations and the wealthy through the same trickle-up, middle-class eroding, income redistribution that's been going on for three decades. Perry is new wrapping paper covering the same box of coal.