Russians do not want a Putin under the tree for Christmas.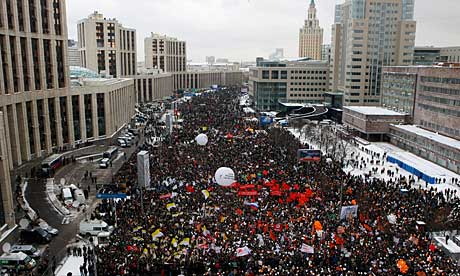 Demonstrators gather to protest against election fraud claims, in Moscow. Photograph: Alexander Zemlianichenko/AP
GUARDIAN — Tens of thousands of flag-waving and chanting protesters have called for a disputed parliamentary election to be rerun and an end to Vladimir Putin's rule, increasing pressure on the Russian leader as he tries to win back the presidency.
The protesters shouted "Russia without Putin" and "New elections, New elections" as one speaker after another called for an end to Putin's 12-year domination of the country at the second big opposition rally in two weeks in central Moscow.