And, of course, to criticize the President.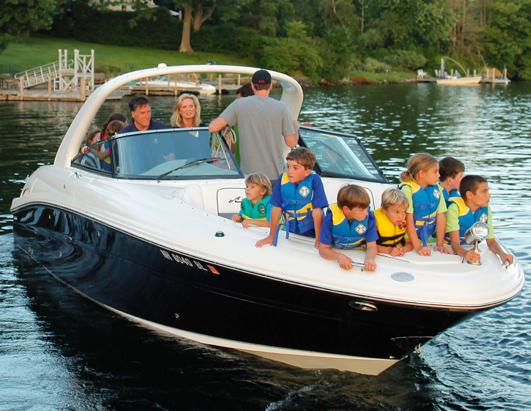 Just a few hours after telling reporters the jobs report today was a "kick in the gut" for Americans, Mitt Romney returned to his vacation, driving his high-power speedboat, filled to the brim with his kids and grandkids, to a nearby home for a dip in Lake Winnipesaukee. ABC News
In a press conference scheduled less than a hour before he spoke, and timed as a response to Friday's jobs report, Mitt Romney continued to criticize President Obama's economic policies in general and also defended his decision to leave the campaign trail for a family vacation — a move that has been widely criticized within the GOP, Politico reports:
""I'm delighted to be able to take a vacation with my family. I think all Americans appreciate the memories they have with their children and their grandchildren. I hope that more Americans are able to take vacation… Part of a good job is the capacity to take a vacation." [...] This was the second month in a row where Romney had no public schedule on the day jobs figures were released. Last month, he gave a quickly arranged interview on CNBC and then had no public events for several days after."
Far be it for Mitt Romney to deny himself a vacation when he's worked so hard over the years at leveraging and cannibalizing healthy companies, brutalizing American employees, and walking away with all the money. Not to mention the energy it takes to campaign for almost five years straight, lie constantly, reverse your opinions (and then reverse them back!) on anything and everything on an almost daily basis, while trying to convince voters to trust you as you're fighting to hide your true wealth, tax returns, and offshore accounts from them.
Mitt and Ann Romney: hardest working people in America!
Related: "Lemon. Wet. Good."