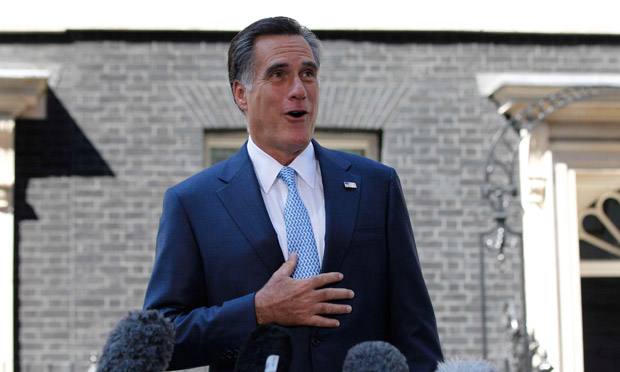 Mitt Romney – seen here talking to the media – complains that US media coverage of his overseas trip has focused on his gaffes. Photograph: Jason Reed/Reuters
THE RETROACTIVE WORLD TOUR BEGINS: For some reason, Mitt seems to want to quickly change the subject from his Terrible, Horrible, No Good, Very Bad World Tour and suddenly focus on the economy? Romney thinks it's a shame the lamestream media won't report what's best for his campaign, like Fox "News" does:
Mitt Romney Blames Press For Overseas Controversies: "Romney told Fox News today that the controversies were the result of the press "trying to find anything else" to write about. "I realize that there will be some in the fourth estate or whatever estate who are far more interested in finding something to write about that is unrelated to the economy, to geopolitics, to the threat of war, to the reality of conflict in Afghanistan today, to a nuclearization of Iran," Romney said. "They are instead trying to find anything else to divert from the fact that these last four years have been tough years for our country," he said."
Romney denies criticizing Palestinian culture: "Mitt Romney insisted Tuesday he was not specifically talking about Palestinian culture at a fundraiser in Israel on Monday when he was quoted suggesting culture was the reason for the economic disparity between Israel and Palestine. "That's an interesting topic that deserves scholarly analysis, but I actually didn't address that," Romney told Fox News's Carl Cameron, adding he didn't "intend" to talk about the subject in his campaign. "Instead, I will point out… that the choices a society makes have a profound impact on the economy and vitality of that society.""
Actual words in Jerusalem: "As I come here and I look out over this city and consider the accomplishments of the people of this nation, I recognize the power of at least culture and a few other things."
Cultural remarks aside, he also thinks that "the choices a society makes have a profound impact on the economy and vitality of that society." And clearly, he said yesterday, Israel is winning economically. So Palestine isn't making the right choices — but no offense?  Here's something else he said yesterday, when he totally WASN'T discussing whose culture was better:
 "I am overwhelmingly impressed with the hand of providence, whenever it chooses to apply itself, and also the greatness of the human spirit, and how individuals who reach for greatness and have purpose above themselves are able to build and accomplish things that could only be done by a species created in the image of God."
Mitt forgot to talk about "the hand of providence" today and who God loves better. It's funny how he was all over that yesterday in Jerusalem, when there was money involved.