I'm a mom in Colorado (that's where the 'good' people in The Stand eventually end up). I collect stuff about (and sometimes voice my opinion on) politics, Armageddon, and other topics I love.* I will admit up front that I'm the worst blogger, ever (lazy, inconsistent, can get stuck on one thing for days…). But it's not like anyone's PAYING me for this either.

Also, too, I have a morbid fascination with things that repel me (i.e. GOP presidential candidates, Beck, Rush, the Teaparty, zombies, etc)… Why a bunker? FEAR.
ARE YOU PREPARED for December 21, 2012? (or the zombie apocalypse, health care reform, or Socialism?) If you're not preparing, you're not properly afraid of everything yet.

In case you haven't heard, it's always the END TIMES in one way or another. So we're stockpiling our bunker with the usual: munitions, food, water and — thanks to Fox News and AM hate radio — GOLD!!
Some Armageddon / Survival info (updated  infrequently):
Safe Room! A safe room is an ultra-secure location within a residence. The concept of a safe room is simple…prepare a room within the interior of the home where the family can safely retreat during a home invasion or other terrorist threat and summon help.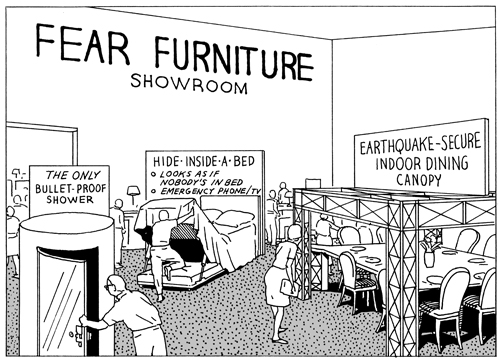 Order this poncho, which is good for emergencies or SPACE.
Illustrated tips:

.
* Other random (favorite) topics: abandoned places, philosophy, religion, horror, sci-fi, zombies, ballet, books, animals and – in no particular order – Jon & Stephen, Hamm, Keanu, RDJ, Keanu & RDJ, Clooney, Colin Farrell, Aidan Turner (the Irish one), Alec Baldwin, Mark Wahlberg, Batman, and the President and Rahm. Random images are mostly found here.  Submissions to the collection are always welcome!
Disclaimer: This is a personal web site. Statements / opinions on this site are my own and do not represent the views or policies of anyone or anything else.
Comments, complaints, conspiracies: underthemountainbunker (at) gmail (dot) com