——————————WHAT THE REPUBLICAN PARTY STANDS FOR TODAY
ALWAYS CHOOSE wealthy parents — If you don't come from a wealthy family with tens of thousands of disposable income, well, that's a shame — no small business for you. Romney wants young people to "take a shot," "go for it," "take a risk," "get the education," and "start a business," but only if the federal government has no role in creating those opportunities. In the 2012 campaign context, the point isn't to mock Romney for being very wealthy or for having very wealthy parents. Rather, what matters here is that he's opposed to using public institutions to help level the playing field for everyone else. — Steve Benen
MITT ROMNEY thinks you should read W. Cleon Skousen: conspiracy theorist, slavery apologist, tea party icon. – "Skousen quotes from an essay which argues that "one of the blessings of slavery" was that slaves' marriages were fleeting, and suggests that being bought at auction improved slaves' self worth. The real victims of slavery, he suggested, were the white owners. The book also referred to black children as "pickaninnies"—which prompted lawmakers in California to block the text from being used in classrooms. In Skousen's book, the model Supreme Court decision was Dred Scott, which correctly demarcated the limits of federal power; Roger B. Taney, who wrote the majority opinion in that case, was the model Supreme Court justice." — Mother Jones
GOOD NEWS, Arizona lawmakers are on the verge of doing what no one else could — defeat the secret United Nations plot to lower poverty, eliminate radioactive waste, and improve the public health. Obvious, glaring threats to our way of life. Arizona lawmakers appear close to sending to Gov. Jan Brewer a tea party-backed bill that proponents say would stop a United Nations takeover conspiracy but that critics claim could end state and cities' pollution-fighting efforts and even dismantle the state unemployment office. A final legislative vote is expected Monday on a bill that would outlaw government support of any of the 27 principles contained in the 1992 United Nations Rio Declaration on Environment and Development, also sometimes referred to as Agenda 21. — What's Wrong With Arizona?
"REPRESENTATIVE PAUL D. RYAN strolls the halls of Capitol Hill with the anarchist band Rage Against the Machine pounding through his earbuds. At 6:30 every morning, he leads an adoring cast of young, conservative members of Congress through exercise sessions in front of a televised trainer barking out orders. For fun, Mr. Ryan noodles catfish, catching them barehanded with a fist down their throats. He may be, as a friend described him, "a hunting-obsessed gym rat," but Mr. Ryan, 42, of Wisconsin, has become perhaps the most influential policy maker in the Republican Party, its de facto head of economic policy, intent on a fundamental transformation of the federal government." — Wow. Half-Wonk, Half-Jock. Half-Objectivist, Half-Catholic. Half-Punk, Half-Wall Street. Paul Ryan is like a projected fantasy of what every high school Young Republican wants to be when he grows up. No wonder GOPers and reporters alike are writing his name all over their notebooks. — The Man, the Legend, the Catfish Noodler
STEPHEN FINCHER (R-TN), ANOTHER TEA PARTY FRESHMAN barfed into Congress on a wave of anger over government-funded bailouts of banks, is accepting cash from bailed-out bankers. Now those incumbents are collecting thousands of dollars for re-election campaigns from the same Wall Street firms whose excesses they criticized. They have taken no significant steps to curb them or prevent future taxpayer-financed rescues. Republican freshmen have made clear their disdain for expanding government, and openly opposed a financial regulatory overhaul enacted by Democrats in 2010 before the newcomers arrived in Washington. [...] "I haven't seen any of them putting forth legislation on breaking up the big banks or on other things that would genuinely prevent a bailout next time," said Marcus Stanley, policy director of Americans for Financial Reform, a Washington- based umbrella group of organizations that supported the 2010 Dodd-Frank Act and other financial regulations. — Bloomberg
PRESIDENT OBAMA / DEMOCRATS————————————————————
Former President Clinton: Obama 'Deserves to Be Re-Elected' – "He's got an opponent who basically wants to do what they did before, on steroids, which will get you the same consequences you got before, on steroids," Clinton said at a campaign event this weekend.
"I WOULD SUPPORT the president's version of the DREAM Act…I think that Senator Rubio's version of the DREAM Act would create a second class status for folks. And I understand that Speaker Boehner has said that he doesn't expect that that issue will be addressed in this Congress…He said the DREAM Act would be a handout and has campaigned with Kris Kobach, who authored the Arizona and the Alabama laws…" — Los Angeles' Mayor Antonio Villaraigosa, chair of the Democratic convention later this year, criticized Sen. Marco Rubio's (R-FL) work-in-progress version of the DREAM Act. — CBS NEWS | Video
WHILE OBAMA SAID it's "entirely appropriate" to "remember what we as a country accomplished" in getting bin Laden, the President advised that people look at what Romney said in 2007 and ask him why he now says something different: OBAMA: As far as my personal role and what other folks would do, I just recommend that everybody take a look at people's previous statements in terms of whether they thought it was appropriate to go into Pakistan and take out bin Laden. I assumed that people meant what they said when they said it, that's been at least my practice. I said that we'd go after bin Laden if we had a clear shot at him and I did. If there are others who have said one thing and now suggested they'd do something else, then I'd go ahead and let them explain it. — Obama: 'I Assumed' He Meant It When He Said He Wouldn't Get Bin Laden
THE REASON for all the dust that's being thrown up is that, every time he talks about foreign policy, Romney is a blindfolded man in a yard full of rakes.  Is anyone taking seriously the complaints now coming about how the president's re-election campaign is using the decision to kill Osama bin Laden to its own advantage? I think the killing of the author of the 9/11 atrocities, and a considerable international murderer even beyond that particular crime, is something that a president who wants to be president again is within his rights to use. However, Willard Romney is all a'flutter. ("My dear young chap, that simply is not done.") There apparently were no clouds in the sky at which John McCain could yell, so he weighed in on the dreadful inappropriateness of it all. [...] In the present case, the president actually gave the order. Osama bin Laden is actually dead. And, having done what he did, the president is well within his rights to wonder out loud if Willard Romney would have made the same call, given what Romney said back in 2007, when he was just starting to run for president. And it's no more or less "fair" on the merits than is Romney's constant refrain that the president "doesn't understand how the economy works" because he's never been a vulture capitalist. (Today in New Hampshire, while travelling around with Senator Kelly Ayotte, his latest vice-presidential beard, and demonstrating the pure class and raw political courage that has marked his entire political career by throwing a cheap shot at someone who wasn't in the room, Romney said that, "Even Jimmy Carter would have given that order." This from a man whose toughest decision in his life has been which house to sleep in.) — Charles P. Pierce
"I'VE KNOWN RICH PEOPLE, and why not, since I'm one of them? The majority would rather douse their dicks with lighter fluid, strike a match, and dance around singing "Disco Inferno" than pay one more cent in taxes to Uncle Sugar." — Stephen King, "Tax Me, for F@%&'s Sake!"
DID PRESIDENT OBAMA'S re-election campaign take its new slogan from MSNBC? The campaign unveiled a new video with a new tagline on Monday morning. The slogan? "Forward." The "Morning Joe" crew were among the many to notice that the slogan bears more than a passing resemblance to MSNBC's nearly two-year-old branding line, "Lean Forward." — Joe Scarborough: Obama's New Slogan Taken From MSNBC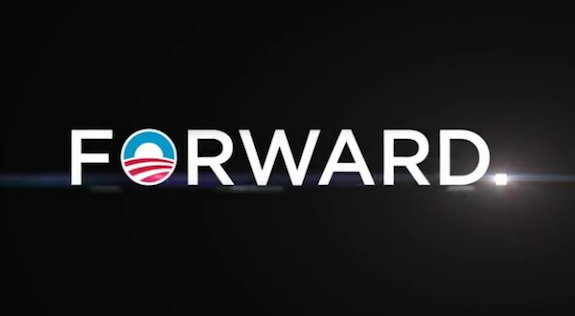 FACTOID: "BACKWARDS" has already been trademarked by the Republican Party.