1) Alabama Republican Senator says low teacher pay is mandated by God – A Republican State Senator from Alabama claimed this week that keeping teacher salaries low is actually an order from the Christian deity figure, imparted in ancient texts written by Jewish tribesmen thousands of years ago. Speaking at a prayer breakfast recently, Alabama state Senator Shadrack McGill praised giving pay raises to politicians, saying that it helps to prevent bribery.
2) Senate approves bill banning insider trading by lawmakers, 96-3 - The Senate voted 96 to 3 Thursday to prohibit members of Congress from using non-public information for personal financial gain but beat back a slew of amendments to further limit congressional perks.
3) Susan G. Komen's Founder Is Major GOP Donor, Ex-Bush Ambassador – Brinker is also a major Republican donor, and has given more than $175,000 to Republican candidates and the Republican National Committee since 1990, according to donor data compiled by the Center for Responsive Politics. Her late husband, Norman Brinker, was the chairman of Brinker International Restaurants, which owns the chains Chili's, Maggiano's, and Macaroni Grill. Norman Brinker gave more than $440,000 to Republicans between 1990 and his death in 2009.
Charities Working to Prevent and Cure Breast Cancer – At Charity Navigator we've done the work for you. We've reviewed the financial health of over 20 of the largest charities working to fight and prevent breast cancer in America. Although these charities have been very successful at generating support, together raising nearly $1.7 billion annually in contributions, the disparity in their financial health is enormous. (via WWJD)
4) With tax break, corporate rate is lowest in decades - U.S. companies are booking higher profits than ever. But the number crunchers in Washington are puzzling over a phenomenon that has just come into view: Corporate tax receipts as a share of profits are at their lowest level in at least 40 years. Total corporate federal taxes paid fell to 12.1% of profits earned from activities within the U.S. in fiscal 2011, which ended Sept. 30, according to the Congressional Budget Office. That's the lowest level since at least 1972.
5)  Pope Is No Tea Partier: Benedict Backs Guaranteed Health Care For All – As newly empowered Republicans prepare a congressional agenda topped by a promise to repeal health care reform, Pope Benedict XVI has strongly reiterated Catholic teaching that universal health care is an "inalienable right" that must be guaranteed by every nation and society. (via: peachsss)
6) Senate Republicans call for two-year pay freeze extension - Senate Republicans on Thursday introduced a bill that would freeze federal pay for another two years and reduce the size of the government by 5 percent through attrition. The legislation is designed to stave off cuts to the Defense Department budget if sequestration takes effect in 2013, and is the latest attempt by lawmakers to reduce federal compensation and shrink the government workforce in the name of deficit reduction.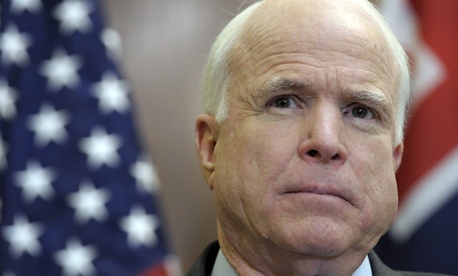 7) GOP senators unveil bill to spare Pentagon from automatic defense cuts – The White House and Democrats swiftly rejected the piecemeal approach, arguing that President Barack Obama and congressional Republicans backed the long-term, deficit-cutting plan last August and can't suddenly abandon it when faced with the dire consequences. [...] The failure of the so-called supercommittee to come up with at least $1.2 trillion in cuts last November will trigger another round of cuts in January 2013 in defense and domestic spending, with the Pentagon facing an additional $492 billion reduction over a decade.
8) Anti-Gay Group Tells JCPenney To Fire New Spokeswoman Ellen DeGeneres – Conservative group OneMillionMoms.com, an offshoot of the American Family Association, doesn't like that JCPenney has hired Ellen DeGeneres as their new spokeswoman. Not because of her dance moves or jokes on her talk show, but because she's gay.
9) A quarter of Mitt Romney's campaign funds come from 41 people – Mitt Romney is just an ordinary man of the people running for president as a voice for the middle class, and if you look at his campaign filings, you'll see that very clearly: A quarter of the money amassed by Romney's campaign and an allied super PAC has come from just 41 people, each of whom has given more than $100,000, according to a Washington Post analysis of disclosure data. Nearly a dozen of the donors have contributed $1 million or more.
10) Three times as many voters consider a Trump endorsement negatively – An endorsement by Donald Trump would draw a mixed reaction among Republican and Republican-leaning voters: 20% say they would be less likely to support a candidate backed by Trump, 13% more likely and 64% say it would make no difference. Among all voters, however, more than three times as many would view a Trump endorsement negatively than positively (28% vs. 8%). That is little changed from 2007.
See reactions to the endorsement: Continue reading →