Boehner had to get the approval of the GOP's real (but unelected) leader before he moved forward with his debt-ceiling plan. And who better to guide Boehner on cutting safety net programs and services to the poor and middle-class while extending tax cuts, tax loopholes, and tax subsidies for the rich and powerful than Rush Limbaugh?
Boehner briefed Limbaugh on debt plan:
Speaker John Boehner (R-Ohio) outlined the GOP's debt-ceiling plan to conservative commentator [entertainer] Rush Limbaugh on Monday before showing it to his conference.
The conservative radio host said Boehner outlined his two-step plan that includes $1.2 trillion in spending cuts and a $1 trillion hike in the debt ceiling. In the second step, a commission would be appointed to come back with additional deficit-reduction proposals, which the Congress could then vote on.
I can't imagine what would happen if Pelosi or Reid had to run a plan for some legislation by a liberal media person / entertainer — the Right would kick and scream all over cable news. But I have to say that I'm glad I can't image Democratic leaders doing that anyway, because IT'S ABSURD!
I guess the teaparty and Republican congress take Rush's tagline literally: "talent on loan from God." For anyone who doesn't know it — Rush made that up, okay? His "talent" (which we could argue about for a week) comes straight from an ego the size of his waistline and consists of "scar[ing] white men as they get in their trucks at lunchtime."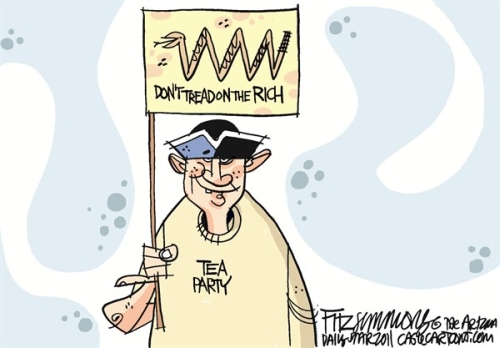 Artist – David Fitzsimmons via BobCesca