At the end of the day, let's not forget who the military works for and who they (should) answer to: the President and our elected leaders, who in turn work for We The People. It's not the other way around. When almost 8 in 10 Americans "favor allowing gays and lesbians to serve openly in the military," along with a majority of service men and women and the Pentagon leadership, it's time to repeal DADT.
And another thing: on this argument from General Amos (below), and Rep. "Buck" McKeon last night, that the troops will be "distracted" by serving with gays or lesbians, isn't that the same argument that was used for segregation — even in the military? Or to keep women out of the workplace?
Apparently these old, white men need to realize it's 2010 — not 1950. And if they'd be "distracted" by serving with gays and lesbians, maybe that says more about them than it does about anyone else.
~~~~~~~~~~~~~~~~~~~~~~~~~~~~~~~~~~~~~~~~~~~~~~~~~~~~~~~
General James Amos, Commandant of the USMC, says the "distraction" of openly gay soldiers will cause more casualties on the battlefield.
"When your life hangs on a line, on the intuitive behavior of the young man … who sits to your right and your left, you don't want anything distracting you," Amos told reporters at the Pentagon. "I don't want to lose any Marines to distraction. I don't want to have any Marines that I'm visiting at Bethesda (hospital) with no legs," he said. He added that "mistakes and inattention or distractions cost Marines' lives. That's the currency of this fight." (via)

~~~~~~~~~~~~~~~~~~~~~~~~~~~~~~~~~~~~~~~~~~~~~~~~~~~~~~~
"He pretty much spit on me, my Purple Heart, and my 13 years of service. I would definitely ask Amos for a meeting to explain his comments, and I'd bring my Purple Heart with me. I wish Obama would invite [Amos] to the White House and fire his ass on the spot." – Former USMC
Staff Sgt. Eric Alva
, responding to USMC Commandant General Amos' comment that repealing DADT would cost Marines their limbs due to the "distraction" of all those homo soldiers. In 2003 Alva became the first Marine to be injured in Iraq when he lost his leg due to a landmine. 
(
via
)
~~~~~~~~~~~~~~~~~~~~~~~~~~~~~~~~~~~~~~~~~~~~~~~~~~~~~~~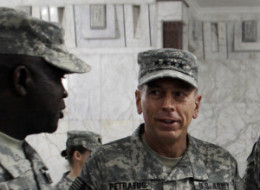 A senior aide to David Petraeus, commander of NATO forces in Afghanistan, is out with a strong statement in support of repealing Don't Ask, Don't Tell (DADT), saying that servicemembers who can't adjust to the change should think about leaving the military.
"If there are people who cannot deal with the change, then they're going to have to do what's best for their troops and best for the organization and best for the military service and exit the military service, so that we can move forward — if that's the way that we have to go," said Command Sergeant Major Marvin Hill in an interview with Roland Martin… (via)
~~~~~~~~~~~~~~~~~~~~~~~~~~~~~~~~~~~~~~~~~~~~~~~~~~~~~~~
Two new developments in the long saga of DADT repeal: [Last night] the House just passed a standalone bill to repeal DADT, which was expected; the bigger news is that Sen. Olympia Snowe (R-ME) has now committed to voting for repeal, after she voted no last week over what she said were procedural issues.
You never know with those two Maine senators, but if Snowe keeps her commitment, that gives DADT repeal 59 of the 60 votes needed to get past the Republican filibuster. Sens. Scott Brown (R-MA) and Lisa Murkowski (R-AK) are the key uncommitted senators at this point. (via)